Human Rights Law Notes, Study Materials and Case Laws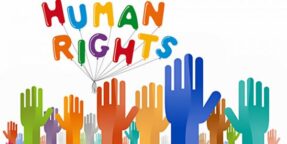 Human Rights are the basic rights which a human being has as a virtue of being a human. Human Rights Law deals with protection of the human rights.
Hello Readers!
This article provides Human Rights Law notes with case laws. As a learner, you can consider it as a free, online, and self-placed course. As a competitive exams aspirant, you will find it perfect for Judicial Service Exams, UPSC CSE Law Optional, etc. And as a reader, this article on Human Rights Law notes is sufficient for you to learn or research on Human Rights Law!
Note: For books on Human Rights Law, click here.
Happy Learning!
CONCEPT OF HUMAN RIGHTS

DOCUMENTS RELATING TO HUMAN RIGHTS

PROTECTION AGENCIES AND MECHANISM
A. Human Rights Council/ United Nations Commission on Human Rights
B. United Nations Specialized Agency
C. Amnesty International

IMPACT AND IMPLEMENTATION OF INTERNATIONAL HUMAN RIGHTS NORMS IN INDIA

GROUP RIGHTS AND IMPLEMENTATION MECHANISM
OTHER IMPORTANT POINTS
For books on Human Rights Law, click here.
For Notes On Other Subjects, Click Here.
For Case Briefs And Analysis, Click Here.
Note:
We hope you found Human Rights Law notes' on every topic related to Human Rights Law. If you think we missed anything, help us by mentioning the details in this form.
Disclaimer:
We have done our best to provide the right information. However, we don't claim the content to be genuine. We suggest readers to do check it.
---
Note: The post was first published on 16th January 2021.
---
Attention all law students!
Are you tired of missing out on internship, job opportunities and law notes?
Well, fear no more! Join our
WhatsApp Groups (Click Here)
and
Telegram Channel (Click Here)
and get instant notifications.
With
12,000 students
already on board, you don't want to be left behind. Join now to be a part of the coolest legal community around!