Basics of Torts: Meaning of Torts, Concepts and Essentials of Torts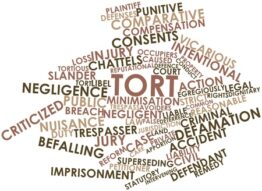 Introduction
A tort can be defined as a wrong independent of contract, giving rise to a civil remedy, for which compensation can be recovered.
The etymological meaning of the word tort is twisted. It originated from the Latin term tortum.
According to Salmond, "A tort is a civil wrong for which the remedy is a common law action for unliquidated damages, and which is not exclusively the breach of a contract or breach of trust or other merely equitable obligation."[1]
Winfield on the other hand opined, " Tortuous liability arises from the breach of duty primarily fixed by law, this duty is towards persons generally and its breach is redressable by an action for unliquidated damages"[2]
Essential Elements of Torts
The essential elements of torts are as follows:
Wrongful Act- When a person is under some legal duty, and he fails to perform it causing some loss to the victim, the person has committed a wrongful act. A wrongful act invades the following private rights of the victim- Good Reputation, Bodily safety and Legal rights.
Legal Damage- There is a difference between legal damage and actual damage. In torts, injuria sine damno is actionable but damnum sine injuria isn't. Injuria sine damno means an infringement of a legal right even if there is no actual damage. Damnum sine injuria means damage without injury. In Ashby v. White[3], the plaintiff was prevented from exercising her right to vote. It was held that the plaintiff was entitled to damages. In the Gloucester Grammar School Case, a rival school was set up near that of the plaintiff. It was held that the plaintiff could not get compensation as there was no legal injury.
Legal Remedy- The damage in tort should be actionable. There cannot be a tort if there is no legal remedy.
Law of Tort or Law of Torts
According to Winfield, tort law is a growing subject and many new torts add up. Hence it is law of tort. Salmond however was of the view that it is law of torts.
Some General Elements of Torts
Act or Omission- There should be a wrongful act in order to constitute tort. It can be an act of omission or that of commission. They should not be beyond human control.
Voluntary or Involuntary- The wrongful act can be voluntary or involuntary.
Intention, Motive, Negligence and Recklessness- The act may have an intention or motive or may arise due to negligence or recklessness.
Malice– Malice isn't essential in all kinds of torts. It is essential in the following- defamation, malicious prosecution, malicious damage to property, slander,etc.
Malfeasance, Misfeasance, Nonfeasance- Malfeasance means commission of an unlawful act. Misfeasance means performing a lawful act in a wrong manner. Nonfeasance means failure to perform an act where there was an obligation to perform it.
Fault- A fault which violates the right of a person gives rise to tort.
Difference Between Tort and Contract
A tort is distinguished from a contract in the following manner-
Free consent is necessary to give rise to a contract. A tort is inflicted without consent.
There is no doctrine of privity in tort. It is essential in a contract, and no third party can make decisions regarding a contract.
Tort is a violation of right in rem( right against the world at large) and breach of contract is an infringement of right in personam (right against a person or a body).
Motive is often taken into consideration in Tort but not in a contract.
The measure of damages in tort is not strictly limited. For a breach of contract, the measure of damages is generally more or less determined by stipulations of the contracting parties.
Difference Between Tort and Crime
A tort is distinguished from a crime in the following manner-
A tort affects the private rights of a person. A crime on the other hand affects the whole society.
In tort, compensation is recovered from the wrongdoer. A person committing a crime is punished by the State.
In tort, action is brought in by the injured party. In crime, proceedings are conducted by the State.
Conclusion
In conclusion, it is clear that a tort is a civil wrong and gives rise to civil proceedings. It involves infringement of the right of a person and the person is compensated by the wrongdoer.
For more notes on Law of torts, Click Here.
---
[1] Salmond and Heusten, "Law of Torts" 20th edition Sweet and Maxwell, 1992
[2] Winfield and Jolowics on Tort, 12th edition, Sweet and Maxwell,1984
[3] (1703) 2LD Raym 938, p 955
---
Author Details: Shohini Roy (Student, St. Xavier's University, Kolkata)
---
Attention all law students!
Are you tired of missing out on internship, job opportunities and law notes?
Well, fear no more! With
22,000+ students
already on board, you don't want to be left behind. Be a part of the coolest legal community around!
Join our
WhatsApp Groups (Click Here)
and
Telegram Channel (Click Here)
and get instant notifications.
Follow us on
Instagram (Click Here)
for amazing legal content.